Black honeycomb grille. Turning bi-xenon high beams. LED daytime running lights. Tornado red exterior. Titan black leatherette interior. These are some of the things that stick out most during our recent test drive of the 2014 Jetta GLI Autobahn with Navigation. If that name sounds a bit more distended than the typical "Jetta," that's because this particular model—though not the toppest of the line—is in the top third of the 17 trim levels available for the Jetta, Volkswagen's entry level sedan.
As we pull up to Volkswagen of Raleigh to meet our sales consultant, it's a cloudy day with just enough warmth to say that winter is over, and enough pollen to say that spring has begun. Even though we work for VW of Raleigh, we've told our sales guide to treat us like a regular customer—give us the whole treatment—so that we can see what it's like to be a walk-in sales prospect. This is Leith's third newest dealership, the state of the art showroom finished in 2013, and the European sense of design is clear in the boxy, glass-heavy building from the inside and out.
Volkswagen buildings emphasize two concepts: right angles and minimalism. It's an overt nod to the brand's emphasis on precision and cleanliness, and in the building it conveys openness and modernity. Tall white walls are anchored by sheets of glass, and the desks inside are simple rectangles without cubes or dividers. Occasional bright clusters of balloons above break up the sterility of the showroom and add some cheer to the Jetta Sportwagen, CC Executive, Tiguan, Passat SEL and Beetle Convertible that decorate the showroom floor. We have a few moments before our drive, so we snag some freshly-popped popcorn and a black tea in the waiting area. We look at the tea label and see that the flavor is "constant comment." Ha ha! They must give this tea to all the writers. A few ladies chat in leather chairs while their vehicles are being serviced.
We had talked with General Manager Bill McNamara ahead of time to explain that we wanted to review the Jetta, and he was most gracious in setting aside one of his team members to take us out. That sales member pulls up now with our Tornado Red Jetta.
It's a sharp looking four-door sedan that, in the words of our guide, "has a lot of competition." Showing up in a vibrant shade of red certainly helps because in a parking lot full of silver, black and white, nothing stands out quite so much as a red somewhere between carmine and vermillion. The GLI is the performance trim for the Jetta, which means that this car is all about driving. It shows in small touches: the black honeycomb grille that replaces the standard fins of the base version; an extended air vent on the bottom of the front bumper to improve aerodynamics; 16-inch alloy wheels that are much more substantial than the standard rims. Our model also had an optional rear spoiler.
We asked for a manual transmission because as good as automatic transmissions are these days, manuals are just fun. Many automatic transmissions make the driving aspect of a vehicle feel distant and muted. You accelerate and brake, and if you have other things to think about, that's fine. But what if you get into a car and want to drive? It sounds like a nonsensical question, but considering how effective some cars are at taking the fun out of driving, it's quite necessary.

As we pulled away from our first stop sign we put the car in fourth gear instead of second. Our sales guide was diplomatic in noting that the engine sounded as if a hippopotamus had sat on it, and we swallowed our hubris as we found the correct gear—nothing like humility to start the day! After getting acquainted with the gearbox, we were ready to roll. Our turbocharged direct-injection engine let us spool up plenty of torque as we let the clutch out into each of the six gears. Letting the engine note ascend and ascend, then finally releasing it for the next gear up, is an old-fashioned pleasure that we miss in the automatic cars that do all of the work for you.
The GLI wants to let you floor it, it wants you to brake hard, and it wants your gear shifts to be brisk and demanding. In many cars, flooring it doesn't actually do anything—you hear a rush of noise out the exhaust and the speedometer gradually creeps upward, but if you want to feel the tires bite into the asphalt and sling you forward, the experience will never arrive. Why? Because that's not how those cars was designed.
The GLI, by contrast, has Autobahn in its name for a reason. Rather than distract you with all sorts of buttons and screens and gadgets, this model focuses on getting the driving experience right, just as original Volkswagens did. If you look at photos of the original VW Beetle and/or Bus, it's clear that these were straightforward machines whose design flowed out of the mechanics. The GLI affirms this philosophy by opting out of the scads of plastic and tech features that weigh many cars down. Instead of combining a movie theater, computer, couch and fisher-price set onto four wheels, the Jetta sticks to its core principles.
Whenever the design team faced a crossroads, they chose whatever made the GLI more of a car. The backs of the rear seats are reinforced with a plate of steel so that if a rear collision happens, the passengers have an extra layer of safety, a feature that some cars don't offer. Does that make the Jetta heavier? Of course. But it's weight that otherwise would have been assigned to a superficial non-car feature.

Or take the laser-welded seams on top of the Jetta. In most cars there are two strips of rubber on the roof along the length of the car at the tops of the doors. This is to hide where the roof and sides of the car meet. In the Jetta, those strips don't exist because there's no need for them: the body has been welded together by a laser. Why? Because though a much more expensive manufacturing process, it's also much more resilient to impacts. The U.S. doesn't have the high speeds of Germany's autobahn, but Volkswagen wants its cars strong enough to handle them anyway.
You can also find this in the B-pillar that supports the roof between front and rear doors. Unless you have a concert pianist's fingers, you will likely not be able to get your hands around this pillar. That's because Volkswagen fused three plates of steel for greater impact resistance.
The rigidity of the Jetta's body gives it extraordinary passenger safety. But it also gives it excellent handling. We did our best to head into 90 degree turns with a fair amount of speed—as well as the giant roundabout off Capital Hills Drive—aided by our manual transmission, of course. Our partner in the rear seat reported afterward that even though the G-forces could definitely be felt, he didn't feel smushed into the next seat as many cars allow through weak body design.
We would have had an even more composed cabin if we'd opted for Volkswagen's dual-clutch automatic transmission instead of our manual. Dual-clutch setups are more common in high-end vehicles because with two clutches, the transmission can always be teeing up your next gear shift before you need it. In layman's terms, it means that shifts are accomplished in a fraction of a second, far faster than a human could do. The Jetta's DSG transmission does exactly that, which is pretty rare for an entry-level of sedan.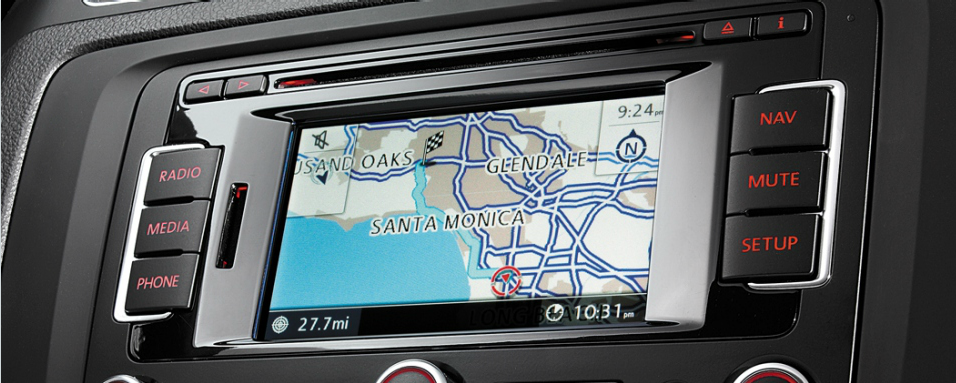 Other things we could point out is that this model comes with Volkswagen's navigation system, a modest touchscreen on the center console that's paired with a smaller screen behind the wheel. The smaller screen is particularly helpful when following navigation prompts (displaying a right-turn signal, for example) as it keeps your eyes closer to the road. Even in the driving focused GLI, with its Spartan approach to buttons and gadgets for the driver, you can still wirelessly connect your phone to stream music, make calls or whatever else, thanks to Bluetooth connection.
And finally, lest you think the GLI Jetta is devoid of bells and whistles, the touchscreen supports a rearview camera to help you inch your way through parallel parking situations; keyless access means entering, starting, and locking the car happen without touching your keys—also making it impossible to lock yourself out; and a Fender audio system in our model served as a more than competent purveyor of tunes—why not rock like Eric Clapton?
As we drove, we did our best to pepper our sales guide questions that we would cringe to be asked.
Q: Where is this car made?
A: Mexico; it used to be made in Germany.
Q: How does that impact quality?
A: Volkswagen actually did a study that showed quality to be as good as the German plant, if not better.
Q: What's the difference between Japanese cars and German cars?
A: Japanese cars don't care about the driving experience; German cars do.
Q: What about American cars?
A: Same as Japanese cars.
Not bad, and certainly much smoother than if we had been on the other end. Overall, the Jetta GLI Autobahn is designed to wrest you out of living on autopilot, chucking the anesthetized automatic funhouses called "cars" today out the window, and giving you a massage-like shifter and robust engine that expect little and reward much. Crucial body integrity and structural design ensure that this is one of the safest and most comfortable vehicles for passengers, and the brand's reputation of longevity means that you'll be enjoying this purely-made mechanical stalwart for years to come.
Test Drive Review: 2014 Jetta GLI Autobahn with Nav
was last modified:
March 9th, 2022
by