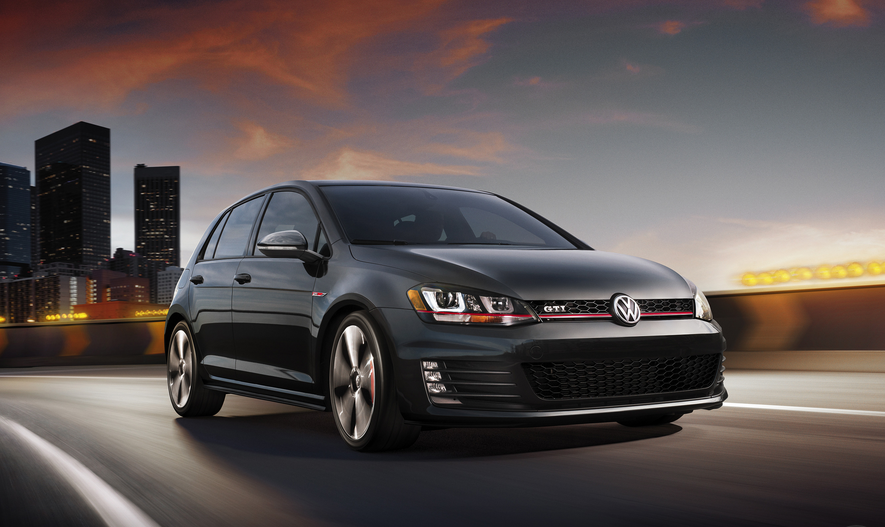 We hate golf. When it comes down to it, we're holding the club too tightly which causes our palms to blister ferociously. After every game we swear to get a pair of gloves, and we never do. Ditto for watching YouTube about proper hand placement. That said, we can appreciate the zen purity of the game, and the freedom that comes from being nearly totally silent for a few hours. Golf is counter-cultural.
In this spirit, we chose the 2015 version of the Volkswagen Golf GTI for a test drive review. Our actual reason came from the dozens of people we've run into over the years who call the GTI the most fun car you can buy. There is a whole subculture of Golf enthusiasts who modify, equip, race and/or just drive Golf after Golf after Golf. Like the game itself, the mechanics of each round are so satisfying that before you've finished playing one round, you're already thinking, "When can I play next?"
That positive feedback loop rewards the driver for every swing, every chip shot and every putt. The Golf GTI is all about how you want to drive it, offering a one-to-one relationship with the car that contrasts with many cars desires' to be everything to everyone.
But hold on a second. How did the actual driving go? We begin, of course, at Leith Volkswagen of Raleigh, one of Leith's newest dealerships having been constructed in 2011. Volkswagen building design tends strongly toward modularism with cleft squarish blocks that layer onto one another in a sort of pixelated version of reality. Hence our showroom has a flattened, horizontal look as if you took an Appalachian mountain, sheared off all jagged points, and were left with just a cubist, rectangular center.
Geographically we are on the northern end of Capital Boulevard in Raleigh past I-540, not quite in Wake Forest territory but getting there. Showing us the GTI today is Gene Isaac, a sales consultant with an easy-going attitude who was game to spend some time with us. Gene demonstrated a masterful knowledge of the GTI despite our showing up unannounced and without specifying ahead of time which vehicle we wanted to drive. Within a matter of minutes he had our Tornado Red 2015 Golf GTI ready to go outside the showroom.
Walking up to it, we could see how the body is different this year. A friend of ours recently bought a 2013 GTI, and although they are both Mk7's in terms of generation, the 2015 has a squatter, flatter stance. The 2015 is a little wider and longer, almost as if it's oozing toward the ground like a blot of molasses or lava, trying to soak up every inch of pavement within its grasp. The benefits of this are increased handling and grip for the driver and a bit more room for everyone in the cabin. Having sat in the backseat of both GTI's, we can say that it was surprisingly roomy, even with someone sitting in front of us.
Angularity is becoming Volkswagen's motif—you can see it in new Audi designs like the A3 and TT, and today's GTI. Rounded body panels are foregone in favor of shear planes with steep faces shattered into crisp lines that produce an almost mathematical sense of unity. This might be a bit of an abstract description, but if the GTI were a division problem, there would be no remainder. Simply put, the angles and lines convey that there is nothing extraneous to the GTI's body, no extra space that gets lost in amorphous blobs and curves of body styling. Everything here is sliced, chopped and hewn.
That's not to say that the GTI's design has no consideration for, you know, passengers. The glass sunroof is bigger than ever so that it actually feel like it's replacing a section of the roof instead of merely cutting out a rectangle for some rays. The rear hatch looks like the designers forgot to include a handle for opening it until you push in on the VW badge itself. Presto! Achievement unlocked. It's a feature that brings a smile to your face. Because it's a short car, the trunk is not deep, but it makes up for this by being tall. You could easily stack your groceries to get everything inside. Dual, chrome-surfaced exhaust tips increase your feeling that this is a car built around its engine and motoring, which is why people come to a GTI in the first place.
Slipping behind the wheel, Gene points out several things we didn't know. The first is that there are substantial differences between African and European swallows. He had heard that this was true, but had not yet received confirmation. Second, the GTI has a sun screen in case you want some sunlight from above, but not too much. During blinding hot days such as these August ones, we can understand this impulse.
Thirdly, when attempting to pull our chair forward, we instead opened a storage compartment under our very seat. Curious invention! This could be used to house golf balls, elderberries, little packets of dried mango, Scooby snacks, a GameBoy, or any other manner of small item. Fourthly, there is a new row of buttons on the ceiling which entail 24-hour on-call driver assistance, repair and mechanical aid, and SOS for emergency contact. It's essentially a panic row of buttons in case something is amiss—a "something-amiss" row in case you have a row.
Fifthly, Volkswagen listened to consumer feedback and updated its center consoles a bit for passengers. We say passenger because the driver has his or her own set of controls on the steering wheel to operate, the better to keep his or her hands on the wheel. New buttons include Sound and Mute because people, it seems, like their music. Sixthly, the subwoofer for the 2015 Golf GTI's Fender audio system is located in the trunk within the spare tire, a clever maximization of space.
Seventhly, all trim levels except the base come with leather seats, a considerate perk to show people that small car does not equal shoddy materials. Even the base model gets the special plaid to emphasize the Golf connection, a cheerful feature that ignores the beigification of most automakers. Eighth, an iPod cable lurks behind a secret panel so that your phone can charge and offer functionality without being an eyesore of exposed cabling.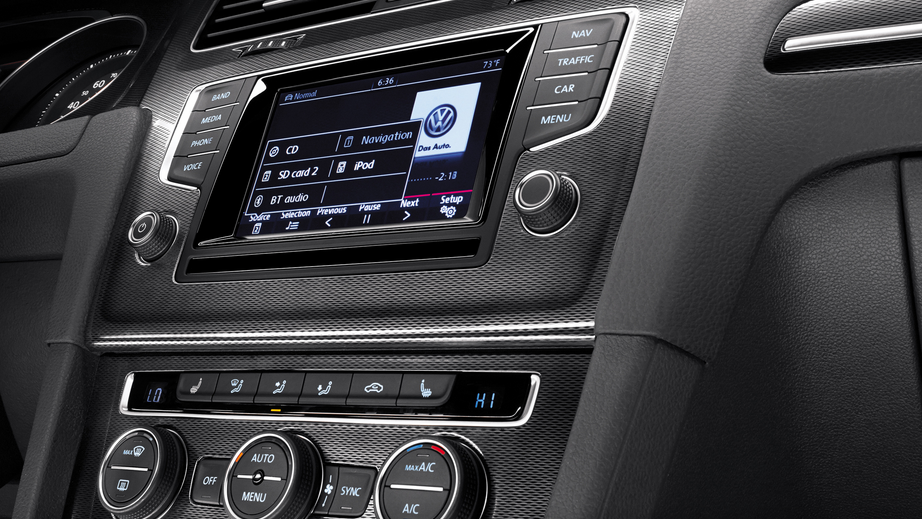 Regarding the Golf GTI's overall fit and finish in the cabin, Volkswagen's trademark attention to detail comes through strongly despite being a mass-production automaker. Passengers will open the doors thousands of times to get out, so VW made solid brushed metal door latches that are pleasing to the touch and give a feeling of permanence and longevity. Similarly, your arm will likely rest on the armrest on the door every day, so VW placed extra-cushioned leather here to greet your forearm. The driver will use the steering wheel to cycle extensively through radio, audio, phone and cruise control options, so the buttons have a weighted and short-travel feedback to them. Clearly, Volkswagen has spent many hours thinking about how you'll use these small touches over the long-term.
Now, the actual driving. Nudging the GTI out of Leith Volkswagen of Raleigh, we discover that we have a manual transmission! Thankfully we can drive a stick shift. The Golf GTI comes in six speeds whether you choose automatic or manual, although the auto has two clutches and the manual has one. We like driving manual on test drives because you can stay in gear longer, so were about as pleased as a hog in a cornmeal factory.
The clutch has a short depth to it, and the traditional golf ball shifter travels linearly from one gear to the next without leaving you wondering where you are. On this drive, even though we got up to about triple-digit speeds briefly, we never went higher than fourth gear. For normal highway driving, however, those fifth and even six gears will help you milk every possible mile out of the GTI's 13.2 gallon gas tank, like a tiny man sweeping the deck of a great big ship.
Driving the GTI is tremendously rewarding because it was made for people who enjoy driving. This isn't some modest family sedan or encumbered Star Destroyer-esque minivan that lumbers along like a full hamburger with wheels. This car is calculated to make the engine feel willing, enabling, even butler-like, as if Friday from Robinson Crusoe had been consolidated into a car's form and wanted to hustle you around town for a gallon of organic milk. We found ourselves riding gears without shifting until we absolutely had to because the torque never petered out, and the engine kept singing.
A car of this size doesn't have to worry about getting out of its own way, or stumbling though lethargic steering cobbled together by a business too busy sorting through recalls to design a worthwhile experience. This is Volkswagen, a company that's so in tune with the driving experience that for the longest time—and in German models they often still do—they refused to give passengers cup holders. Why no cup holders? Because you don't get in the car to drink, you get in it to drive—don't worry, American models have spots for cups—unless you're Gary Busey; then you get in it to drink and drive.
Steering is communicative, though easily handled thanks to a weight-saving electric system that replaced the old-school hydraulic getups of yesteryear. Braking comes through with the self-assuredness of gravity on a piano in free-fall. On I-540 Gene became our friend when he looked around to make sure the highway was clear then said, "Punch it." The GTI remains quite steady at high speeds, in long curves, and other situations where you would expect road noise to creep in the cabin. Volkswagen's been at this long enough to know that performance and comfort, at least in America, have to go hand in hand.
With this being the Golf GTI, we were trying to figure out the golf metaphor. Are we supposed to be the ball sailing through the air? The club sailing through the air? The tee serving as blast off point? Are we the caddy who alone understands the game, or maybe Volkswagen is Bagger Vance, a magical guru helping people find their swing and Charlize Theron. The GTI isn't just about golf, it's specifically about GTI golf—that is, a high-performance racing style of golf. The peace and quiet of golf isn't likely to be found in the GTI where turbo-revving and happy cornering are the primary goals.
The 2015 GTI is more comfortable for passengers. It's more attractive for on-lookers. It's peppy as ever for the driver. What it feels like to us is that the GTI has grown up a bit by removing anyone's ability to complain about anything. We want to thank Gene Isaac for showing us the new GTI and heartily recommend that you visit him and Leith Volkswagen of Raleigh.
Leith Volkswagen of Raleigh: 2015 Golf GTI Test Drive Review
was last modified:
April 30th, 2015
by